Restore your core strength and take back control!
Restore Your Core® is a comprehensive, whole-body exercise program designed to help any woman with core issues such diastasis recti (mummy tummy); pelvic floor dysfunction including stress incontinence or prolapse; post-natal issues; and back pain. Ideal for post-natal women, the programme will help you regain strength, restore function and improve the overall alignment of your body.
WANT TO EXERCISE WITH FRIENDS?
WHAT IS RESTORE YOUR CORE®?
Combining yoga and Pilates-based exercises with the fundamentals of biomechanics, Restore Your Core® will help you to learn how your body moves, and how to improve how your body moves. As you find a new, improved way to move, your body will begin to re-pattern as you go about your day, NOT just during exercise – whole body healing 24 hours a day. As you become familiar with your body's default movement strategies, you will begin to change unhelpful postures and habits such as rounded shoulders, abdominal sucking and pelvic imbalances.
Restore Your Core® classes are carried out either as a short group course (either 4 or 6 weeks), or as one-to-one sessions. Each session includes breath work, corrective exercises and a flowing movement sequence. You will receive homework after every session, as well as useful reading material to familiarise yourself with the basics of healthy alignment and movement.
If you prefer to join an online programme, I will be happy to support you as you work through the sessions at your own pace.
In Restore Your Core® you will learn:
– Exercises that restore core and pelvic floor function
– Corrective exercises for your posture and alignment that reduce stress and strain on your core and pelvic floor
– Breathing patterns that support ideal core and pelvic floor function
– And a plethora of tips to help you get the most out of your exercises and daily movements
Cost: £tbc
FREQUENTLY ASKED QUESTIONS
Who is Restore Your Core® for?
The Restore Your Core® Programme is for any woman with core and /or pelvic floor issues looking for a program to help them close their gap, reduce their leaking, and get stronger in their whole body.
Why should I do Restore Your Core® if have diastasis recti?
Restore Your Core® targets the issues that cause and worsen diastasis recti (i.e. alignment issues, breathing patterns, muscle imbalances, and too much intra-abdominal pressure).
How does Restore Your Core® work?
Restore Your Core® works by teaching your body how to move and exercise properly. Through the programme you will learn the importance of proper alignment, breathing mechanics, how to reduce intra-abdominal pressure, and how to engage the proper muscle groups to ensure a functional core.
Can I do Restore Your Core® while pregnant?
You can absolutely do Restore Your Core® while pregnant and there are pregnancy modifications options.
Is Restore Your Core® easy to incorporate into a busy schedule?
Absolutely, I offer one-to-one sessions so you can work your sessions around your schedule. Or you can choose to join in our 6, 8 or 12 class blocks.
I had my child 10 years ago, is it too late to use Restore Your Core® to build a functional core?
Restore Your Core® can help you rebuild your body no matter how many months or years postpartum you are.
Is there any specific equipment I may need during the Restore Your Core® programme?
The programme uses a yoga mat, a towel or blanket for comfort, a half roller, and a strap. Most of these can be substituted for items you have at home: a blanket, pillow, belt.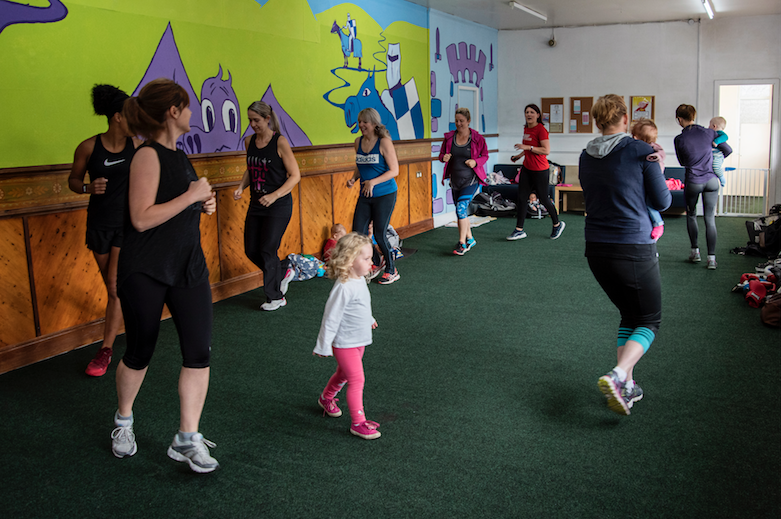 OR WHY NOT TRY OUT FITNESS FOR MUMS SESSIONS?
Bring the little ones along to our Buggy 4 Fitness sessions.
Held 6 times a week across Halifax, this is the solutions to those looking for like-minded mums in the area. Get fit together and make friendships that last a lifetime.