Client Story: Vicky Walker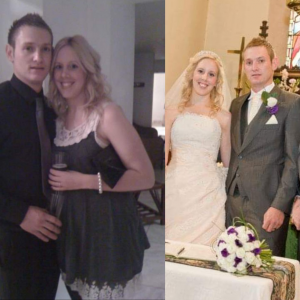 My name is Vicky Walker and I am a Technical Service Desk Analyst for Experian in Bradford. This is my story..
18 months ago after giving birth to my 1stdaughter I weighed 11 stone 6lbs, I had trained through my pregnancy with Sharon Porter Fitness which helped me feel more energetic in the pregnancy -the sessions were really good and felt manageable.
I stopped about 2 weeks before giving birth and then re-started 6 weeks after to help me get back into shape for my wedding in the following September. Within 8 months I reached a pound under my target at 10 stone 5. On my wedding day I felt fantastic and loved the new me. I really loved my training and worked very hard during each session always giving it my all.
10 stone 5lbs is my current weight and I am now feel full of energy, and feel comfortable in my clothes. It's the lightest I have ever been although this will change as I am now pregnant with my 2nd chil. I intend to continue training with Sharon Porter Fitness as I feel the training through my pregnancy gives me the energy I need and also helps with the weight loss afterwards.
So how did I do it?
I consistently trained with Sharon Porter Fitness once a week which I think was money well spent.  I now have a positive attitude towards myself and exercise, also having gained much more knowledge in the process. I ate sensibly, eating a lot more fruit
My advice is to not set your targets too high and take it a step at a time and I would definitely recommend exercise during pregnancy as it gives you an extra boost.
Find out more about my personal training programmes here.